Why are bouncy castles at different prices?​
I want to buy a children's bouncy castle, but when I ask the price online, I find that each manufacturer's price is different.
So, why is the price of almost the same product so different? Let's talk about the reasons that affect the specific price of children's bouncy castle: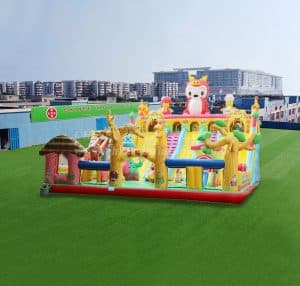 1. The shape of the bouncy castle:
Even if the bouncy castles of the same size have different cartoon shapes, the corresponding prices will be different.
If the cartoon animal has a complex shape, the corresponding design and production costs will increase, and the price will be more expensive. On the contrary, the price will be cheaper.
Generally speaking, the design of the bouncy castle is finalized after market consideration to ensure that unnecessary designs are reduced on the basis of novelty, beauty and fun, and the product is cost-effective.
2.the number of toys in the bouncy castle:
For example, some 100-square-meter bouncy castles are more expensive, but there are a lot of fun things in them that children like to play; some prices are cheap, but there are too few things to play inside, children go in, there is nothing to play on.
Therefore, the same size of the castle, the number of things in it, also affects the price factor.
3. Production process of bouncy castle:
Inflatable castles involve production processes such as spray painting, sewing, heat sealing, and lamination, and each production process will affect the price of the product.
For example, if the castle is painted too much, the price of the bouncy castle will increase.
4. the bouncy castle material:
The bouncy castle material is usually made of 0.45mm or 0.55mm thick PVC material. The quality and price of PVC produced by different manufacturers are different. Good PVC is relatively expensive. Therefore, if the manufacturer chooses different PVC quality, the price of the bouncy castle will also be different.
5. inflatable castle product accessories:
Children's bouncy castles need to be used with a hairdryer. Generally, the larger the area of the bouncy castle, the more hair dryers are required, and the more expensive the price is.
In addition to the hair dryer, the accessories of the bouncy castle are also the windproof buckle, the zipper of the air outlet, etc. The quality is linked to the price.
The above five points introduce the specific price factors that affect children's bouncy castles. Of course, when buying bouncy castles, investors should also pay attention to factors such as product quality, factory scale, after-sales service, time costs and other factors in addition to price factors.
Buying high quality bouncy castles is safer, more durable, more sustainable and lasting money.