Detailed explanation of bouncy castle materials
The bouncy castle is made of eco-friendly PVC mesh material. PVC is also known as polyvinyl chloride; the meaning of PVC mesh is double-sided polyvinyl chloride + intermediate mesh. As a children's bouncy castle PVC material, it should be environmentally friendly and non-toxic.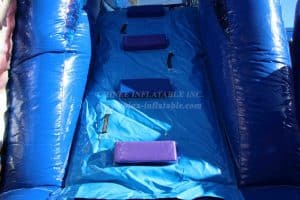 The PVC material itself is non-toxic, mainly determined by plasticizers and antioxidants.
According to the additional performance, it can be divided into ordinary type and environmental protection type, and the price is higher. There are many kinds of mesh fabrics in the middle, which are polyester and nylon in terms of material, ordinary yarn, and high-strength yarn in terms of strength, ranging from knitting, weft knitting, combing, semi-combing and ordinary combing.
In addition, to meet the needs of special children's bouncy castles, we can choose a variety of yarn density mesh. The thickness of PVC material used in children's inflatable castles is generally 0.45-0.55mm; Chinee inflatable castles use 0.48mm in large areas; 0.55mm materials are used in places that require strength such as slides, and double-layer reinforcement is used locally.
Why do prices of bouncy castle products vary so much?
1. The details of the bouncy castle. Indistinguishable without expertise.
2. This is why some small factories are cheap, and bouncy castles are prone to problems.
3. High-quality bouncy castles are worry-free and worry-free.
For more information on children's bouncy castle products, please follow Chinee inflatable play equipment.