Which is the best manufacturer of inflatable products in China?
Which Chinese bouncy castle wholesale manufacturer is safer in quality? Preferred Chinese inflatable.
Children's bouncy castle amusement equipment belongs to the category of entertainment projects, so the biggest highlight of this kind of inflatable equipment is its appearance, which attracts children to play. For users who invest in buying children's bouncy castles, the first thing to consider is profit, so they must listen to their opinions when purchasing, especially the suggestions of children's friends, and choose a castle with a novel appearance and novel meaning. Because most of your target customers are the consumer groups of playing children, you can grasp the psychology of children and lay a good foundation for future business.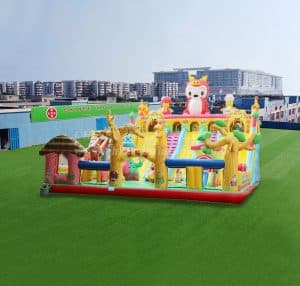 The quality of the castle means that the product can operate normally, operate for a long time, and whether the profit can last. If the quality is not good and there are frequent failures in the operation, will it make a lot of money? Therefore, when buying a bouncy castle for children, the quality of the castle is the most important thing. Therefore, first of all, we should choose those manufacturers with good product quality and reputation. Secondly, if we have time, we can go to the factory for on-site inspection. The main concern is the quality of the raw materials, the fine workmanship and the rationality of the design safety.
Some people will question, why do children have the final say when it comes to the price of gaming equipment? Because the quality and price of any product are proportional to the quality, what you need to consider is whether the quality and price of the product are low, not the difference between what kind of investment profit and a pile of scraps can't be brought to users by frequent failures? Therefore, when you buy a children's castle, first consider the appearance, quality, after-sales service of the bouncy castle, and then consider the price of the children's bouncy castle.
I believe that every user can consider more about appearance, quality, customer service and price through a thorough understanding, so that when buying children's play equipment, they can buy products that they are satisfied with.