What occasions are suitable for the use of air tents?
Celebrity outdoor variety shows are one of the most popular types of shows, and both the elderly and children are very interested in experiencing the different lives of celebrities in the outdoors. Star outdoor variety shows often last several days, which means they need to spend the night outdoors, so viewers can often see the inflatable tents in this type of program.
The set up of an inflatable tent is much simpler than a traditional tent, with only three steps. The first step is to spread the inflatable tent flat, then take out the fan. The second step needs to fix the four corners of the tent in the desert. This step is relatively tiring, because the structure of the desert is different from the land. After fixing the four corners of the inflatable tent, you only need to use the fan to blow the tent can be.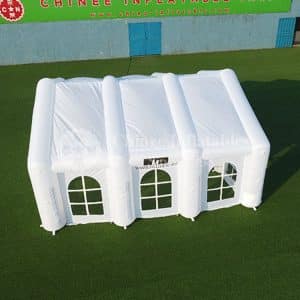 Technology progresses because people want to have a better life. Inflatable tents have obvious advantages over traditional tents. They are easy to set up, windproof, warmth, water resistance and other properties are not inferior to other tents. In addition to desert camping, you can use inflatable tents, outdoor merchandise shows can also use them. Outdoor merchandise exhibitions often do not last too long. The construction of a building is obviously too wasteful, then the inflatable tent has become the first choice. It is strong and durable, whether rain or sunshine will not affect the environment inside the tent, and its volume can be customized in accordance with people's needs, low cost.