What are the five characteristics of children's inflatable playground products?Children's inflatable playground is an inflatable play equipment for children's entertainment, which combines at least two kinds of equipment in the inflatable trampoline, slide, rock climbing, cartoon and other inflatable amusement facilities. It is soft material, colorful, diverse, fun, loved by the majority of children. Products without metal foreign body, flame retardant performance, supporting the safe and reliable blower to work, safe, low noise and energy saving to ensure the safety of children's use.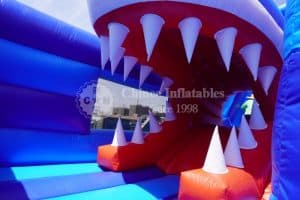 Products have five performance characteristics.
1.simple and easy to install. Find a clean, flat place to open the package, the product laid flat on top, supporting the blower against the inflatable mouth, the fan does not need any pressure-transforming device to start, ordinary household power can be used, direct inflatable 5 to 10 minutes to blow up.
2.fine workmanship. Products using double-needle alignment, double-wrapped at the joints, strong and solid, D-ring buckle, fixed ground and the position of the product, to ensure that the product is close to the ground, solid and stable.
3.Safe and reliable. The whole product is made of soft environmental protection material, good elasticity, large internal space, surrounded by ventilation network wall, both light, ventilation and safety, surrounded by fixed wrong fixed, safe and reliable, according to the different shapes are equipped with slide guardrail, protective air cushion and other protective measures to ensure the safety of children's use. Inside the air cushion to ensure sufficient flexibility, fun, inflatable fence to ensure that no matter how children bounce will not tumble to the outside, a variety of sports, enjoy a variety of fun.
4.Functional entertainment. The product combines the characteristics of children's love of play and movement, thus designing a series of functions such as bouncing, rolling, climbing, sliding, drilling, spanning, etc. Children can happily run and play in it. Entertainment and education integration, can develop children's intelligence and cultivate their ability to explore and learn, but also exercise physical fitness. Children can also play with small partners, meet more new partners!
5.Flexible and easy to use. Products can be moved, can be transferred, regardless of geographical space restrictions, as long as there is a complete placement of inflatable we can cover an area of land, such as parks, squares, fields, playgrounds, etc.. When the product is needed, inflatable can be turned into a children's playground, not deflated when the volume is greatly reduced, folded into a tote bag can be, easy to carry, easy to collect.