As a manufacturer of bouncy castles, we have been committed to building a healthy and sustainable bouncy castle industry.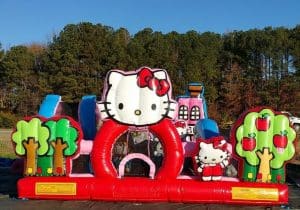 Every time we see reports of children injured while playing with bouncy castles, we get worried.
In addition to product defects, carelessness in business operations is also a very important factor in the occurrence of safety incidents, not only in China, but also in foreign countries.
A few days ago, I saw foreign reports that the bouncy castle was swept up by the strong wind, and the child fell from the air and fell seriously.
This is because the merchants ignored the precautions for the use of bouncy castles in the business process, resulting in abnormal operations.
Most of the bouncy castle merchants have the following instructions for their products: when there is wind outside, the windproof device needs to be fixed; when the wind is greater than level 4, it is necessary to consider stopping the operation, and the device for fixing the windproof belt must be firm and reliable.
Think of the incident where the bouncy castle was overturned. This is not a product quality problem at all, but caused by the negligence of the businessman. The operation must be stopped in strong windy weather.
Although accidents have occurred in bouncy castle products, in our opinion, this is not an important issue. With the improvement of relevant regulatory systems, operators can do a good job in safe operation, which also provides a healthy and sustainable bouncy castle industry. development environment.
For bouncy castle operators, safety supervision departments in various places have also successively formulated relevant normalized management methods, from checking the operating threshold to intermediate inspections, and attaching importance to the safe operation of each link.
The safety of bouncy castles is closely related to operation. It is believed that after the double safety of bouncy castle production and operation, bouncy castles will inevitably drive the healthy development of the entire industry.