In the operation process of mobile inflatable water park, the most important part is water treatment!
Water treatment is a must-have for some investors and operators who have never set foot in a water park project.
At the beginning of purchasing inflatable water park products, it is difficult for ordinary investors to notice this problem.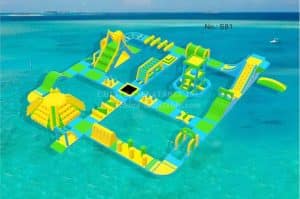 As we all know, the equipment of the inflatable water park project is important, especially in the case of competitors, the equipment is easy to copy by competitors. But only by mastering the water treatment technology can we be invincible.
This is because, of course, the amusement project of the inflatable water park is to play with water. If the water is unsanitary, then tourists will not come to play at all, and there is no way to talk about making money.
Therefore, no matter how good the equipment is, if the water treatment is not done well, it will not attract people to play.
Water treatment is a specialized technical knowledge, including many aspects. Generally, there are only two things to pay attention to, pH and bacteria.
It is difficult to control these two parameters without professional knowledge and practical experience.
Business strategy is a must for businesses, especially for such a water park project with a medium investment scale. It also needs to pay attention to business strategy.
Therefore, the choice of inflatable water park project partners depends on products and technical services.
Chinee inflatable has many years of experience in the on-site operation of water parks. It is not only a product supplier, but also a strong technical service provider for water park investors.
For any questions about the water park, you can email or call for consultation, and we will be happy to solve various problems of customers.