With the emergence of mobile water parks, water entertainment has become an ubiquitous entertainment project for all people.
After the theme water park was launched in countries all over the world, it quickly became a popular tourist destination and amusement place.
The well-known Chimelong Water Park, Shanghai Tropical Storm and Fantawild Water World attract millions of tourists from all over the country every year.
However, the construction of large-scale theme water parks requires huge investments of hundreds of thousands, which limits the expansion of water parks in most general cities, let alone places like county towns.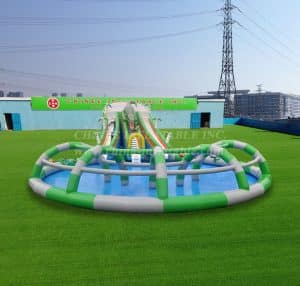 Under such circumstances, mobile water parks came into being. It moved the water park near the tourists' homes, so that we can have a water carnival at any time without having to travel long distances.
The mobile water park is composed of inflatable water slides, inflatable swimming pools, floating devices and other supporting facilities, with low investment, convenient product assembly and high flexibility.
It can meet the same site requirements for operating water parks in summer and other projects in winter to maximize investment returns.
Therefore, the water park is no longer affected by the year-round climate, and can only be limited to some cities in the south, such as the north, to provide more people with coolness in summer.
As an important part of the water park, inflatable swimming pools are divided into two categories: inflatable pools and bracket pools. Different sizes are suitable for different pools, depending on the size of the swimming pool.
Our inflatable swimming pool products range in height from 30cm to 1m and cover all application requirements. The appearance of the inflatable swimming pool can be made into round, square, irregular and other shapes according to the design requirements.
When using, only need to inflate once, and then add water to two-thirds of the height of the product, and then it can be used normally. The inflatable swimming pool is made of high-quality PVC thickened material, which is thermally synthesized by a heat-sealing machine, with good air tightness and high safety.
The design area of the product ranges from dozens to hundreds, and the specifications are various. The packaged product is small in size, which is easy to move and install.