Bouncy castles, as a more popular commercial project for children's play, are ideal for personal and family investment projects.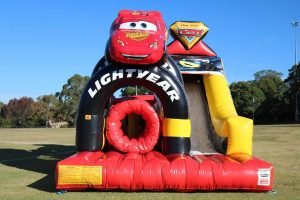 The bouncy castle covers an area of 20 square meters to 1,000 square meters, and the investment amount ranges from 400 to 15,000 US dollars.
Bouncy castles can be operated on various occasions and are more popular children's play items.
Compared with other amusement park projects, such as naughty castles, carousel, small trains, etc.
The bouncy castle has the characteristics of convenient installation, movement and maintenance, and it is more worry-free to operate.
The bouncy castle is made of environmentally friendly strands sandwiched with thick PVC material, and the volume is only 1-3 cubic meters after packaging.
Before operating, just open the boundary castle, connect the power supply, and blow air with a special fan.
The blowing process of the bouncy castle can be completed in up to 10 minutes, which is very simple and convenient.
The inflatable castle launched by Henan Kuqi has a novel style and unique design structure, which has been well received by customers and brought considerable economic income to many investors.
There are many manufacturers of bouncy castles. How to choose a suitable bouncy castle has always been a concern for buyers. Our company has been focusing on bouncy castles for more than 20 years. We have specialized in creating high-quality products and insisting on providing customers with better service is our constant pursuit and purpose.
For more product information, please contact us.