What should I pay attention to when buying a bouncy castle?
With the improvement of people's living standards, boundary castles and facilities have a place in our lives. As for the new children's bouncy castle industry, the pace of development is even more rapid. However, since the consumer group of children's bouncy castles are mainly children, in addition to ensuring the quality of equipment and facilities, novel designs, and more importantly, in order to ensure the normal operation of the equipment, so as to ensure the safety of children's play, it is very important for children's bouncy castles. The manager of the maintenance job is important. What do you need to pay attention to when buying a bouncy castle for children?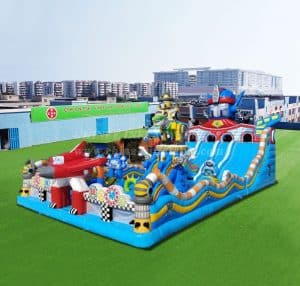 Index of parameters related to bouncy castle:
1. Raw material supplier: professional 0.45mm, thickened, PVC cloth with network, laid out by the Quality Supervision Bureau, the inspection results show no irritation to the skin, completely non-toxic and no harm to children, and in line with export standards. This product is a professional inflatable fabric with good cold resistance, good heat resistance and good flame retardancy.
2. Planning talents: professional planners
3. Production process: blanking, painting (sewing), sewing (sealing), finished products.
4. Quality inspection procedures: Self-inspection – Mutual inspection – Special inspection – Final inspection Intention: Never pass unqualified products to the next process to ensure the quality of the goods.
5. Possible double-needle sewing needles, the stitch length is controlled between 4.2 and 4.5mm.
Purpose: To reduce air leakage and improve the tensile strength of the sewing area.
6.. The width of the glue brush and rod width shall not exceed ±0.5cm
7. There are strict control standards for bonding temperature.
8. Service life: the connection between the appearance and the large surface is limited by the arc structure. The purpose is to make the power of the goods uniform and improve the service life of the goods. Can use about 80,000 to 100,000 people?​
9. Related accessories: distribute the corresponding fans, glue and maintenance information.
Children's bouncy castle playground now has many styles, shapes, and diverse children's amusement facilities and places. Children often play in them, exercise their reaction ability, thinking ability, practical ability, and improve their intelligence and learning ability. After such edification, children will be more intelligent and can make more contributions to society when they grow up.
Children's bouncy castle amusement equipment consumption promotes economic growth and national wealth. Moreover, judging from the development trend of the children's amusement equipment industry, its role in economic growth will become larger and larger. Not much to say. Such a valuable and socially impactful industry should not be ignored or let a huge profit opportunity slip away. Small investment, big development, growth is just a process. Invest in children's play equipment, the heart beats the action.