Investment analysis of mobile inflatable water park project
Before you know it, it's late June, and the weather is getting hot. Everyone knows that in July and August, the weather will be even hotter. Have you thought about where to cool off in the hot summer? If you haven't thought about it yet, here is a recommendation for you. It is best to go to the mobile water park to play in the water and cool off in the summer.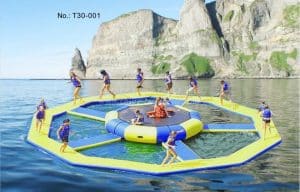 The consumption characteristics of mobile water parks are very in line with the needs of summer water entertainment. The mobile water park is a popular, healthy and leisure activity suitable for all ages, and more importantly, the consumption is reasonable.
China's population base is huge, and its land area and population density are many times higher than those in Europe, America and even other parts of Southeast Asia. Such living and geographical conditions are very suitable for investment and operation of mobile water park projects. Because the area occupied by tourists playing in the mobile water park is limited, it can accommodate a large number of tourists at the same time, so as to achieve the effect of lower consumption and higher operating income.
According to the feedback results of our survey on the inflatable water amusement market:
1. Swimming pools and water parks, which are intensive recreational projects, are potential investment projects.
Second, the operating efficiency of mobile water parks is higher than that of simple mobile swimming pool projects.
3. Summer Children's Summer vacation is a golden period that cannot be ignored.
Fourth, the investment in children's mobile water park can be done very large, accommodate more tourists, and the actual income will be higher.
5. The mobile water park can replace or expand the amusement equipment at any time, change the gameplay, and the amusement content is more exciting than the existing traditional water parks in China.