If You Can Imagine It,we Can Make It.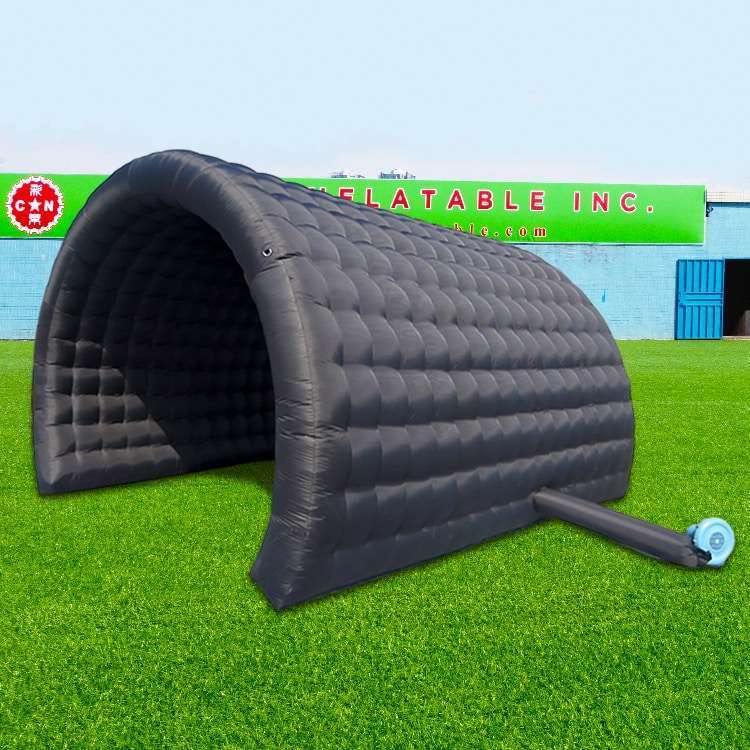 H6-0113 black inflatable tunnel tent
Brand:
Chinee Inflatable
Model:
H6-0113
Size:
mL*mW*mH Or Customized
Weight:
- kg / - lbs kg
Packaging:
-m×-m×-m /
-ft× -ft×-ft
Material:
0.9mm PVC Tarpaulin
OEM:
Design ; Size Color, Printing, Etc
Accessories:
Air Pumps; Repair Kits ; Connect Tape
Size:
-m(L)×-m(W)×-m(H) /
-ft(L)× -ft(W)×-ft(H)
Model:
H6-0113
Weight:
- kg / - lbs
Packaging:
-m×-m×-m /
-ft× -ft×-ft
Material:
0.9mm PVC Tarpaulin
OEM:
Design , Color and size can be customized
Shipping :
We Provide Global Delivery By Air/Sea/Train Shipping From Door To Door Or To Designated Port.
Accessories:
Air Pumps; Repair Kits ; Connect Tape
This H6-0113 black inflatable tunnel tent Made Of First-Class Plato Environmentally Friendly PVC Material, Which Has The Characteristics Of Flame Retardant, Non-Toxic And Environmental Protection. Even The Newly Installed Project Has No Irritating Smell And Will Not Cause Allergies To The Human Body.
Parameters Of Inflatable Tents
NO:
H6-0113
Size:
mL*mW*mH Or Customized
Weight:
– kg / – lbskg
Packing:
-m×-m×-m /
-ft× -ft×-ft
Customized:
yes
Material:
0.55mm+0.9mm durable PVC tarpaulin
Accessories:
blower/carrying bag/repair kits
Warranty:
3-5 years
| | |
| --- | --- |
| Inflatable column material: | PVC coated poly (1-ester) woven fabric (PVC air tight cloth for short) |
| Bottom cloth: | PVC wear-resistant wiper (red, blue, blackish green) |
| Working Temperature: | -30°—+65° |
| Hydrostatic pressure: | Hydrostatic pressure ≥ 16kpa |
| Surface water proofing: | 160-200mm |
| Inflation time: | 2-15 minutes (depending on the size of the tent and the inflation tools) |
| Inflation tool: | Electric inflation pump |
| Specification: | Customized |
When creating custom tents our methodology revolves around active collaboration with the client. We endeavour to explore and develop new concepts using a variety of tools including CAD visualisation and animation to ensure that the design of a structure grows from a shared understanding of the requirements it must satisfy.
When Creating Custom Tents, Our Methodology Revolves Around Active Collaboration With The Client. We Endeavour To Explore And Develop New Concepts Using A Variety Of Tools Including CAD Visualisation And Animation To Ensure That The Design Of A Structure Grows From A Shared Understanding Of The Requirements It Must Satisfy.
Our Tents Undergo Rigorous Structural Evaluation Using A Variety Of Techniques, Including Advanced Finite Element Analysis, Backed Up With Extensive Testing Of Prototypes And Key Components.
Cutting Patterns Are Then Generated Using Software Developed By Our Own Engineers Before Being Transferred To Our Computer Controlled Fabric Cutter. The Automation Of The Patterning And Cutting Processes Greatly Shortens Lead Times And Permits Increasingly Complex Forms To Be Achieved With Ease.
All Our Tents Are Manufactured Using The Latest Fabrication Equipment At Our Factory, Giving Us Complete Control Of Quality And Production Schedules.
We Are Committed To Creating Quality Tents Which Exceed Our Clients' Highest Aspirations By Marrying Visual Impact And Engineering Excellence With An Understanding Of Economic Reality And Tight Timescales.
We Offer A Complete Service From Design And Build Through To Installation, Training And Ongoing Support. Just Contact Us With Your Requirements And Our Team Will Guide You Through The Exciting Process Of Developing Something Totally Unique.
Q: 1.What about size and color?
A: The size and color can be changed according to your requirements or according to the size in our webpage or catalogue.
Q: Can you print my picture or logo on the products?
A: Yes, we can print your picture or logo on the inflatable products, and you can offer the picture in any format made by Photoshop or Coredraw.
Q: Can you design one specially?
A: Yes, send us details and a sketch or a picture of your requirements and we will quote you our best price.
Q: What included in products?
A: It is included inflatable tent, blower, kit bag(including the same colors material, glue),ground sheet.
Q: Producing time?
A: Our regular producing time for 1pcs inflatable games is 6-15 days, excluding air transit time, from the date of confirmation. However, it can be +/- depending on the design and the dimensions.
Q: Shipping?
A: Can be delivery by air or by sea. The approximate transit time by air is 5 business days maximum and by sea 15-30 days.
Let's Support your Business Right Now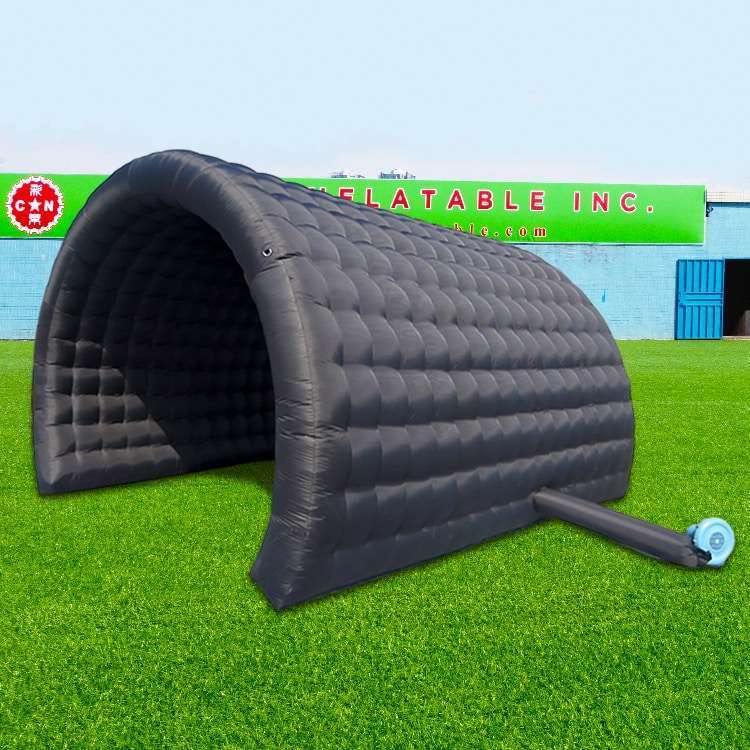 H6-0113 black inflatable tunnel tent
Please Fill Out The Form Below To Request A Quote Or To Request More Information About Us And We Will Contact You As Soon As Possible.